LOTS WILL START CLOSING AT 1:00PM WITH BIDDING EXTENSION OF 2 MINUTES. LOTS WILL CONTINUALLY CLOSE IN CATALOG ORDER UNTIL ALL LOTS ARE CLOSED.

Contact Agent: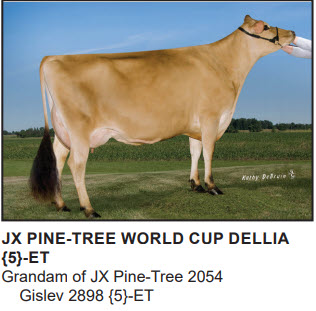 BORN 12/06/2020 P9 BBR 100
FEMALE EFI 3.7% AMERICAN ID 2598/2598 JH1F JNSF
CDCB GPTA S 01/04/2022 0RECS 74%R 99%ILE
-498M 0.35% 48F 0.18% 20P 534CM$ 510NM$ 339FM$
3.9PL 3.2LIV 2.7DPR 3.2CCR 4.2HCR 2.77SCS 524GM$
0.2MFV 0.3DAB 0.0KET -0.6MAS 0.0MET -0.1RPL 2.26HTI
AJCA 01/04/2022 GPTAT 74%R 0.2 GJUI 5.8
GJPI 69%R 131
SELLING OPEN
BUYER IS GUARANTEED IVF SESSIONS UNTIL A MIN OF 8 #1 OR #2 IVF EMBRYOS ARE PRODUCED. GRADES DETERMINED AT TIME OF TRANSFER IF FRESH EMBRYOS OR AT TIME OF FREEZING, IF REQUESTED.BUYER KEEPS ALL RESULTING EMBRYOS FROM THESE CONTROLLED IVF SESSIONS.
Location:
ONLINE ONLY AUCTION, Reynoldsburg OH, 43068
More Details
BORN 12/06/2020 P9 BBR 100
FEMALE EFI 3.7% AMERICAN ID 2598/2598 JH1F JNSF
CDCB GPTA S 01/04/2022 0RECS 74%R 99%ILE
-498M 0.35% 48F 0.18% 20P 534CM$ 510NM$ 339FM$
3.9PL 3.2LIV 2.7DPR 3.2CCR 4.2HCR 2.77SCS 524GM$
0.2MFV 0.3DAB 0.0KET -0.6MAS 0.0MET -0.1RPL 2.26HTI
AJCA 01/04/2022 GPTAT 74%R 0.2 GJUI 5.8
GJPI 69%R 131
SELLING OPEN
BUYER IS GUARANTEED IVF SESSIONS UNTIL A MIN OF 8 #1 OR #2 IVF EMBRYOS ARE PRODUCED. GRADES DETERMINED AT TIME OF TRANSFER IF FRESH EMBRYOS OR AT TIME OF FREEZING, IF REQUESTED.BUYER KEEPS ALL RESULTING EMBRYOS FROM THESE CONTROLLED IVF SESSIONS.

Location: ONLINE ONLY AUCTION, Reynoldsburg OH, 43068
Reserve Met
High Bid:
$800.00 – #1017
Bidding has closed on this lot